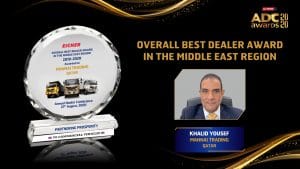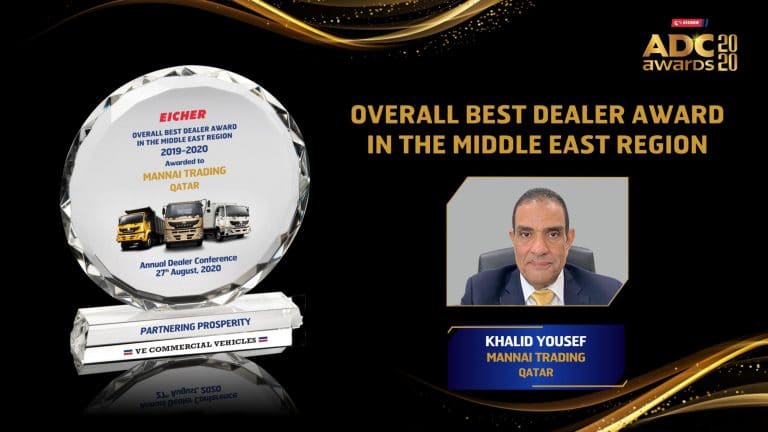 VE Commercial Vehicles (VECV) Ltd. grants acclaim to the best dealer in the Middle East for its top-quality infrastructures and stellar performance in sales and services that highly contributed to VECV's growth.
On the last quarter of 2020, Mannai Automotive Group's Heavy Equipment Division, the sole distributor and dealer for a spectrum of internationally known heavy equipment brands, landed recognition from VECV as the Overall Best Dealer in the Middle East region owing to its leading sales and services coupled with the newly built showroom and aftersales infrastructures within 2019 to 2020.
The award was bestowed by Tarun Arora, VECV's Regional Head – Middle East & Country Head – Nepal to Khalid Yousef, the Heavy Equipment General Manager of Mannai Automotive Group. Due to risks posed by the COVID-19 pandemic, the award reception ceremony was held online via video conference call.
This accomplishment mounted a triumph for Mannai Heavy Equipment Group as it solidified their contribution to Qatar's land transportation industry. Moreover, Mannai also established new infrastructures to support the growing VECV's business, which included the 2,180.64 sqm. showroom, 1,659.53 sqm. parts facility, and 42,000 sqm. service center. Mannai Trading Company helped Eicher extend modern logistical and commercial transportation networks to the Qatari community.
According to Mr. Khalid Yousef, "Together, Mannai Heavy Equipment and VE Commercial Vehicles bear a firm commitment to our ambitious plans for our Qatari partners. Mannai HED is a veteran provider of the extensive range of products and services of all private sector companies in Qatar. Our genuine OEM parts, superior heavy-duty equipment, and advanced services raise industry standards and put us at the forefront of a competitive market. HED boasts a fully computerized and ably manned spare parts inventory, with easy access and support to ensure optimum utilization. We ceaselessly refresh our dealer stock levels to ensure fast turnaround of services or repairs to our beloved clients. In addition, our excellent aftersales standards accredit to our first-class facilities, highly trained customer-oriented personnel, and leading professional and technical customer service team."
"The variety of transportation applications in the Qatari Market requires a wide range of vehicles. From 12-62 seater bus and light trucks 4.9 ton to heavy-duty 49-ton trucks. Eicher Trucks & Buses provide higher value delivery to customers and the models as per the requirement of the market, designed to deliver High Performance and Maximum Lifetime Profitability that offers the right transport solution for every application." he added.