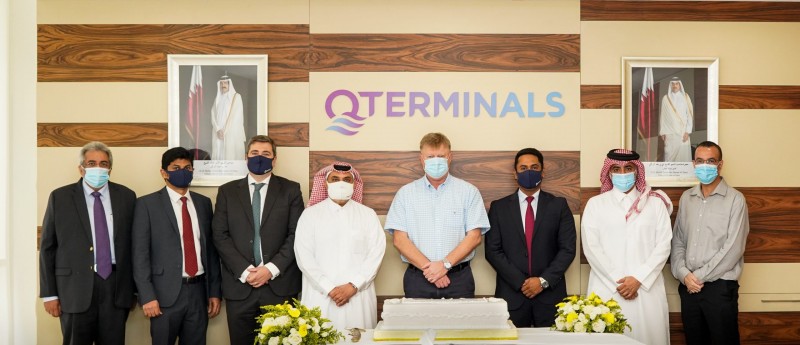 This implementation empowers the staff with productive and intuitive self-service applications for Managing enterprise functions in Financials, Planning, Human capital management and Procurement
 Mannai Trading Company W.L.L., the largest system integrator in Qatar has successfully deployed Oracle's Fusion Cloud at QTerminals, a terminal operating company jointly established by Mwani Qatar (51% shareholding) and Milaha (49% shareholding), enabling QTerminals to adopt industry best practices in areas of human resource management, financial management, supply chain and enterprise performance management.
QTerminals envisioned a modern suite of best-in-class ERP applications that would enable it to enhance and automate its internal processes, gain a competitive advantage, while improving employee productivity. After careful evaluation, QTerminals selected Oracle ERP Cloud, which has allowed it to seamlessly extend its on-premises applications to the cloud and establish a modern business platform that can be scaled to support its international expansion plans and roll out new technology innovations.
Mannai InfoTech, the software division under Mannai Trading Company W.L.L., led the deployment of the Oracle Fusion Cloud, to modernize and digitize various manual processes in the departments of Procurement, Finance and Human Resources, while improving reporting, user experiences and data integration. By leveraging the expertise from its Center of Excellence in Oracle technologies, digital transformation and innovative methodologies for implementing solutions, Mannai has remained a strategic IT Services Partner to QTerminals during the implementation.
Prior to the Fusion Cloud footprint, QTerminals was on a legacy shared system with limited agility and prolonged processes to implement new business changes. Along with a high demanding maintenance, QTerminals had limited access to new features such as performance management and analytics, e-sourcing, self-services, etc.
Oracle's Fusion Cloud ensures a connected and agile experience across multiple business processes that boosts productivity and supports the skills of an agile, flexible and digitally enabled workforce. The advanced reporting capabilities will improve financial decisions, enhance performance management processes, reduce payroll processing times, increase staff productivity and improve workforce engagement. Being  a cloud-based solution, system maintenance and total cost of ownership are also significantly reduced.
With Oracle Fusion, QTerminals has been able to improve financial planning, reduce approval times, and have immediate visibility on company performance. Centralizing the procure-to-pay process allowed QTerminals to automate suppliers' interactions, exploit the advantage of negotiated terms and discounts, reducing procurement costs and providing a more accurate view of procurement spend. By leveraging dashboards and progressive reporting techniques, Oracle Fusion allows QTerminals to effectively manage talent acquisition and retention.
On this occasion, QTerminals' Chief Executive Officer, Mr. Neville Bissett said: "To meet our objectives and business plans over the next five years, we decided to implement Oracle's Fusion ERP, to further help us drive the business forward and provide our projects with an integrated IT infrastructure to facilitate and connect our overall business with the latest information technology".
 Mr. Bissett further added: "Our international growth plans combined with the highly competitive environment in which we are operating required our internal processes to be ever more efficient, resilient, and scalable. The adoption of Oracle's flagship Fusion Cloud for our support functions allows us to focus on our core business as a terminal operating company while at the same time rolling out new digital innovations. We are very pleased to have partnered with Mannai InfoTech and Oracle in our business transformation journey."
On his part, Mr. Khalid Mannai, Vice Chairman – Executive Committee, Mannai Corporation, explained saying that:"This is a strategic opportunity to build and deliver the most modern, sustainable and innovative solution that would transform QTerminals to harness the power of digital technology". The successful implementation of Oracle Fusion Cloud exemplifies Mannai's collaboration with Oracle to deliver large scale enterprise projects that drive organizations to deliver true business transformation and long-term sustainability".