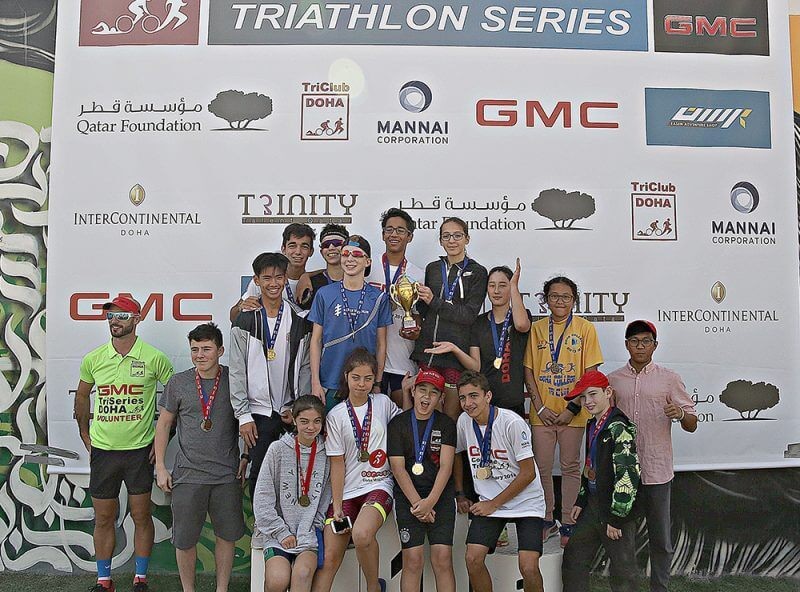 The latest results in the Qatar Foundation Triathlon Series, powered by GMC, have been announced after the second event occurred in January.
Triathletes from Qatar battled against themselves and the clock in three disciplines – swimming, running and cycling – to be on the podium.
The Qatar Foundation Triathlon Series, formerly known as the GMC Triathlon Series Doha, is organized by TriClub Doha in association with Qatar Foundation, with the event's primary sponsor and Qatar's exclusive GMC dealer Mannai Auto Group, and supported by benefactors like Intercontinental Doha, Rasen Adventure Sports and Trinity Talent Qatar.
The event, the second race in the fifth season, occurred on January 19 at the Qatar Foundation Education City Recreation Centre, using a 50m indoor pool for the swim, with the bike and run course on internal roads in Education City.
The QF Triathlon caters for all ages and levels of triathlete, from the complete beginner finding their legs to more experienced triathlons wanting to stretch themselves on the sprint course.
The course involved a swim in the 50m pool, a cycle across a 5km bike course and a 1.25km run lap. Distances ranged from kids 7-10 (100m swim, 3km bike, 1.25km run) up to Sprint (500m swim, 20km bike, 5km run) with different distances catering for each age group and level
TriDoha LLC(G) is triathlon club founded to serve triathletes of all abilities in Qatar. The club has about 400 members ranging from complete beginners to world-class triathletes, and aged from seven and adults.
Mr. Ivor D'Cunha, Senior General Manager- Operations, Mannai Auto Group, said: "Mannai has always aimed to be a part of, and central to the community, and our sponsorship of this event really enables people to come together for a common cause.
"It is also a fantastic way to keep fit and meet new friends."
Mr. Ewan Cameron, race director and representative of Mannai Corporation, commented:  "Yet again, we had another fantastic event, with all the participants pushing themselves to the limits.
"It is becoming a popular event in Qatar and one that if you're a triathlete, you would not want to miss out on."
Here's a list of some of the winners:
Open (male)    
Bernard Mccullagh
David Walsh
Ambroise Aufrere
Open (female)  
Eulogy Van Dyk
Sinead O'Hara
Francesca Mollica
Masters (male) 
Tim Drew
Petri Kutinlahti
Andrew Kilshaw
Masters (female)          
Andrea Stadler
Shawna Garrett
Rebecca Powney
Junior (14-15 years old) Male   
Ethan Bennett
Junior (14-15 years old) Female           
Ailsa Cameron
Junior (12-13 years old) Male   
Arran Cameron
Junior (12-13 Years old) Female          
Amelia Bennett
Junior (10-11 years old) Male   
Daniel Hadley
Junior (10-11 years old) Female           
Charlene Robertson
Junior (7-9 years old) Male      
Max Robertson
Junior (7-9 years old) Female  
Ava Thomson