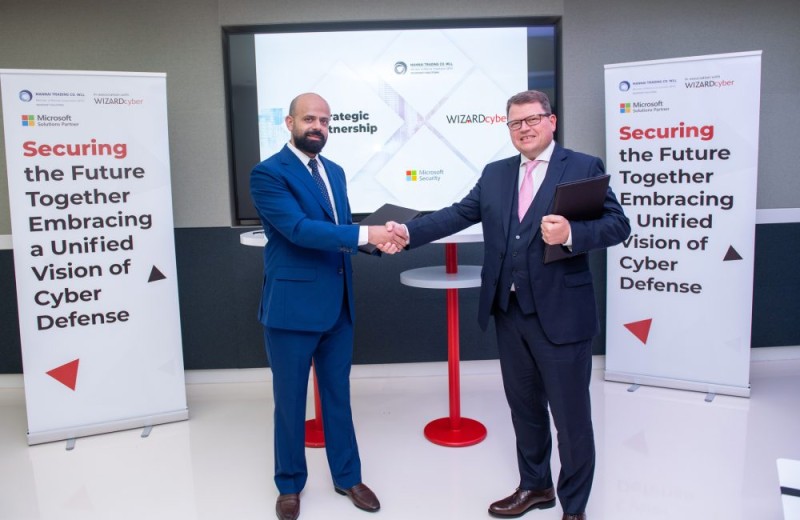 Mannai – Microsoft Solutions, an ICT division of Mannai Trading Company WLL and a leading Microsoft Solutions provider in Qatar, is thrilled to announce its strategic partnership with Wizard Cyber, a global Cybersecurity firm. This collaboration marks a significant milestone in Qatar's cybersecurity landscape, promising enhanced services, expertise, and solutions to businesses and organizations across Qatar, Oman, Bahrain, and Kuwait. The partnership also introduces a unique Sentinel CyberShield platform in Qatar Microsoft data center powered by Microsoft Sentinel to provide Modern SOC services.
As Qatar aims to become a prominent digital hub, the demand for robust cybersecurity measures has never been more critical. Mannai Microsoft Solutions – has solidified its position as a trusted Managed Security Services Provider MSSP and Security Operations Center SOC expert powered by Microsoft Sentinel, with a proven track record in delivering comprehensive cybersecurity strategies. Similarly, Wizard Cyber boasts an impeccable reputation in the industry, offering cutting-edge solutions in threat intelligence, incident response, and advanced security consulting.
The partnership between Mannai- Microsoft Solutions Division and Wizard Cyber represents an unparalleled union of expertise and capabilities. By combining their strengths, resources, and state-of-the-art technologies, they will provide clients with unrivaled cybersecurity services tailored to Qatar's unique challenges. The collaboration reinforces their commitment to excellence and aligns with Qatar's vision for a secure and resilient digital ecosystem.
"The partnership with WizardCyber is a game-changer for Mannai- Microsoft Solutions Division and for Qatar's cybersecurity landscape," said Mohamed Negm, Senior Vice President at Mannai Microsoft Solutions. "By joining forces, we will elevate our capabilities, introduce innovative solutions, and foster a culture of cybersecurity resilience. We will empower organizations to navigate the digital realm confidently while safeguarding Qatar's digital assets."
The strategic alliance is crucial as Qatar intensifies efforts to strengthen its cyber readiness and defense capabilities. Mannai Microsoft Solutions and WizardCyber's combined expertise will enable organizations to combat evolving digital threats effectively. Their services will encompass continuous monitoring, advanced threat detection, incident response, and proactive risk management, providing comprehensive cybersecurity solutions beyond mere protection.
"We are delighted to partner with Mannai – Microsoft Solutions division in this endeavor," stated Paul Goldney, CEO of WizardCyber. "Our collaboration will enable us to leverage our global experience and expertise while tailoring our solutions to the specific needs of Qatari businesses and government entities. Together, we will contribute to Qatar's vision for a secure digital ecosystem." "
Through this partnership, Mannai Microsoft Solutions and Wizard Cyber aim to fortify Qatar's position as a trusted digital hub and foster a safer digital environment for all. By combining local knowledge with global best practices, they are poised to elevate cybersecurity standards, drive innovation, and support Qatar's digital aspirations.