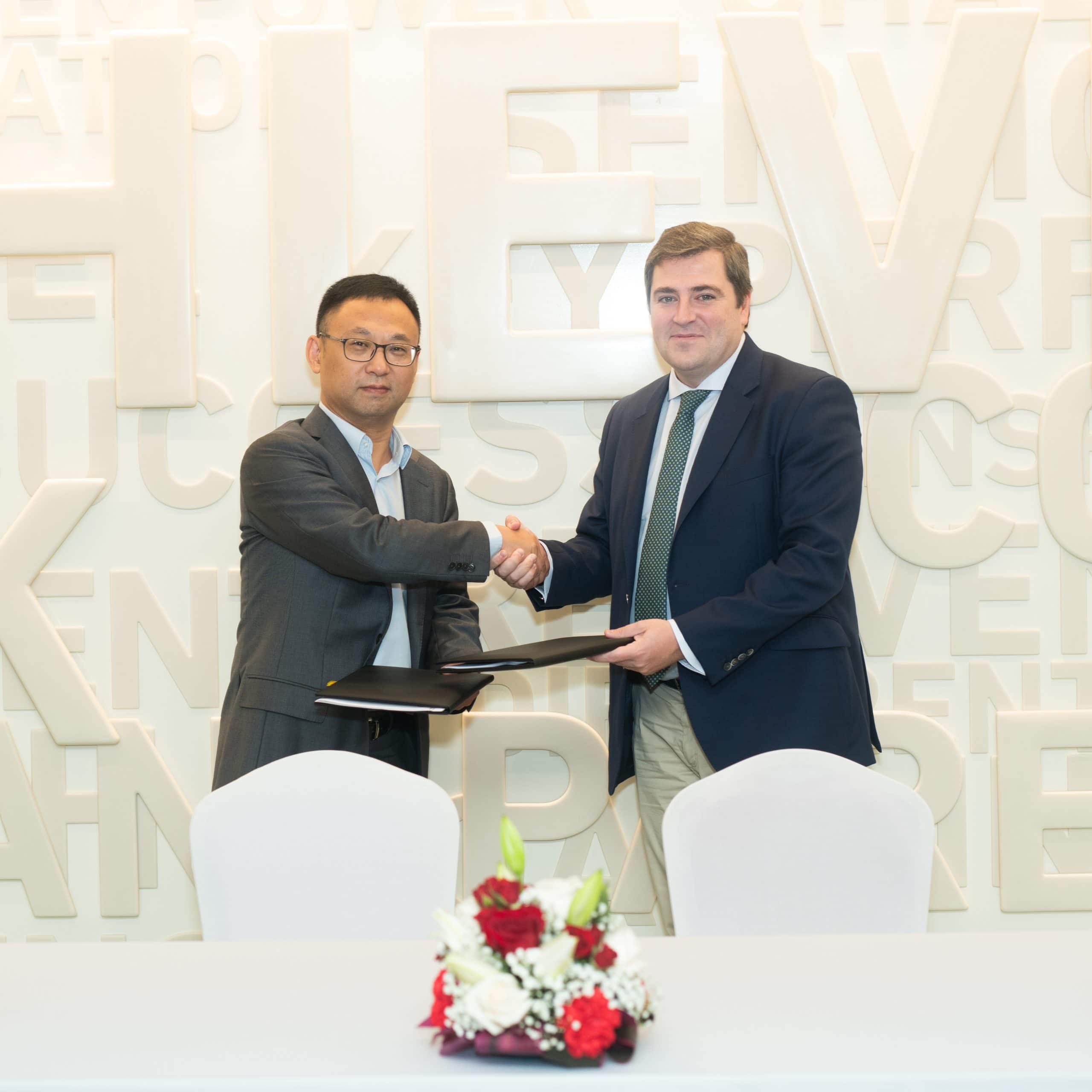 Doha, Qatar, February 2020: Bringing the value of digital services to more people and organizations in Qatar, Mannai Trading Co. WLL—the largest systems integrator in Qatar—has teamed up with Huawei Intelligent Computing to jointly explore intelligent computing and the development of innovative cloud, artificial intelligence (AI), and knowledge-sharing projects.
The two companies signed a Memorandum of Understanding (MoU) to initiate their cooperation during a ceremony attended by Juan Leon, Group General Manager of Mannai ICT, and Ni Wenfeng, CEO of Huawei Intelligent Computing in the Middle East and Africa (MEA) region.
Through this cooperation, Mannai and Huawei will build, market, and deliver industry solutions with the combination of their technologies and services for both telecommunications and enterprise IT markets. The collaboration will also see the establishment of joint labs with Mannai and Huawei in Qatar, which will aim to display intelligent computing solutions for government, telecommunications, education, energy, banking, and other industries.
Additionally, Mannai will capitalize on Huawei's unique intelligent computing offerings as the only vendor in the industry capable of providing a full-stack, all-scenario AI solution portfolio. This includes access to Huawei FusionServer Pro Intelligent Servers for bolstering the intelligent transformation of data centers, the Huawei Atlas AI Computing Platform for enabling all-scenario AI infrastructure solutions for device-edge-cloud networks.
Juan Leon, Group General Manager of Mannai ICT, said: "Intelligent computing is now a key pillar to advancing our economy and society, driving the development of our connected world. Cooperating with Huawei through this memorandum will ultimately enable us to accelerate the digital transformation efforts of local businesses. We are confident that together with Huawei, we will help our partners in Qatar to fully benefit from AI and intelligent computing."
Ni Wenfeng, CEO of Huawei Intelligent Computing (MEA), noted: "We are looking forward to working with Mannai to unlock the ultimate computing power and support a fully connected, intelligent world. Through our joint innovation efforts, we can also create bespoke solutions for organizations in Qatar that are in line with the Qatar National Vision 2030's approach to development."
With a focus on AI-powered solutions, the MoU recognizes the considerable investments Huawei has made in the AI field in recent years. The company is rapidly advancing AI research to build data efficiency, lower computing and power consumption, and develop machine-learning capabilities in domains such as computing vision, natural language processing, and decision-making inference. Huawei has also built a full-stack, all-scenario AI solutions portfolio that gives businesses a full pipeline of efficient and easy-to-use services. As seen through the latest MOU, Huawei is further investing in an open ecosystem and talent cultivation with academia and industry partners. Such initiatives will enable AI thinking to be weaved into existing IT products and services, as well as applying AI to massive volumes of routine business activities for better efficiency and quality.
For more information, please visit Mannai InfoTech online on www.mannai-ict.com/mannai-infotech/ or follow us on:
RELATED NEWS
No related news. Please check again later.