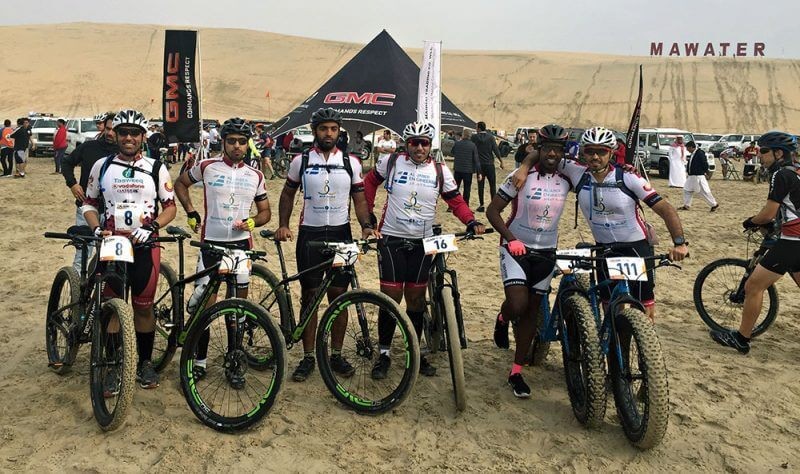 As part of its Like A Pro campaign, GMC was proud to offer crucial support to the Al Adaid Desert Challenge (AADC)  – billed as the most challenging cycling event in Qatar.
GMC, the leading truck and SUV manufacturer, in association with its Qatar partner Mannai Automotive Group, was, for the second year, the official automotive sponsor for AADC, on Friday March 2.
The event was a perfect opportunity to promote GMC's 'Like A Pro' campaign which is evolving out of its 'We Are Professional Grade' positioning in the Middle East. The campaign celebrates GMC vehicles and customers who passionately live life to a higher standard.
GMC Sierra vehicles were provided for the logistics during AADC and provided GMC weekend drives to three lucky draw winners.
"We are delighted GMC was again sponsoring and aligned with this tough event. It underlined our 'Like A Pro' campaign perfectly: doing the ordinary in the most extraordinary way – which these competitors excel at," commented Mr Mahmoud Skhiri, Mannai Automotive's General Sales Manager.
He added: "Our customers, just like the competitors in the Al Adaid Desert Challenge, have exceptional standards and are dedicated people whose passions drive them on.
"At Mannai, just as in the GMC campaign 'We Are Professional Grade', we strive to get everything right first time, every time."
GMC has been present in the Middle East for over 93 years and has taken its brand messaging in a new direction, marking a key moment in its ongoing development.
The AADC is the most challenging cycling event on Qatar's off-road cycling calendar and for the second time it was featured in the International Cycling Union calendar.
Marked as UCI C3 Cross Country point to point race, it covered 40km of desert track from Sealine to Qatar's 'Inland Sea' (Khor Al Adaid).
Now in its second year, the AADC saw an additional marathon race, with more than 100 runners taking part in the 26 km event.
A UNESCO recognized natural reserve with an ecosystem, Al Adaid is one of the few places in the world where the sea encroaches deep into the heart of the desert and can only be reached by crossing the rolling dunes.
The event saw last year's men's winner Eric Dekker, from the Netherlands, retain his title, ahead of New Zealand's Roman Van Udden and France's Frederic Gombert. The women's event was won by Finland's Pia Sundstedt from France's Sophie Giovane.
In an interview with GMC, the top riders were asked what kind of advice could they give to people who aspire to be a Pro; winner Erik Dekker said it was important to strike a balance between work and sports and to excel at a discipline.
AADC Race Director,  Mr Andrej Filip, thanked all the competitors for attending, and making it another high-standard sports event. "Every year, the competition gets more fierce and every year, the competitors dig in and excel.
"We were again delighted to have GMC as a valued partner in the event, along with all the other sponsors," he added.