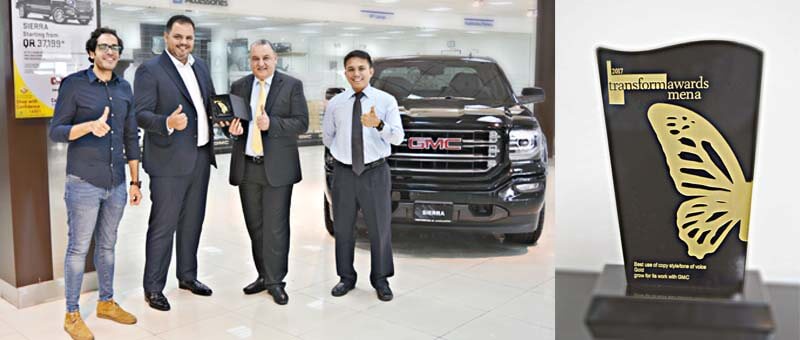 GMC Qatar has won the prestigious Gold award for the second time in a row at the fourth annual Transform Awards MENA.
The awards ceremony, which was held in Dubai at the Waldorf Astoria on May 17, celebrated excellence in rebranding and brand development and was recognized in a room brimming full with industry specialists.
Grow, the agency that works with Mannai Automotive and their brands also picked up ten other awards on the night.
Established in 2009 in Europe, the Transform Awards has evolved into a celebration of the indispensable talent that exists within the branding sphere. Covering Asia-Pacific, the Middle East, North America and Europe, the Transform brand itself is truly global, with no other outlet as committed to providing such comprehensive coverage of the brand environment.
The implementation, positioning and creativity of the corporate brand are becoming an increasingly treasured business asset. The Transform Awards evaluate exemplary work in brand development, and acknowledge the growing significance of brand in strategic corporate communications – developing and sustaining a strong brand is imperative for success.
The 2017 Transform MENA awards celebrated entries from Oman, to Lebanon, Nigeria, and Qatar and beyond. Branding talent from charities, NGOs, corporate firms and agencies was all on display.
Tarek Khalil, General Manager of Grow, said: "We are delighted to have won another Gold for Mannai Automotive and GMC, especially when the quality of the competition is so high.
"However I believe it's a testament to the constant hard work and creativity of both our client and team. It also reaffirms the consistency of brand experience that Grow is trying to deliver as an agency."
Grow have now won a total of 11 awards at Transform MENA, making them the most awarded Qatari agency at this prestigious event.
Mahmoud Skhiri, General Sales Manager of Mannai Automotive, attributed this success to the efforts of its agency, Grow, in adhering to the high standards set by GMC for all its marketing deliverables.
He said: "We congratulate Grow on their fantastic achievement and their consistent performance in the Transform MENA awards. These awards are so important to recognizing the hard work that goes into fulfilling a brand.
"We will continue to work with Grow as a team to ensure the consistency of our marketing deliverables and exceed our customers' expectations."
Built on the philosophy of 'Commands Respect', GMC has built pickups since 1902. With a rich heritage in the Middle East and an impressive 111 years of presence, innovation and engineering excellence is built into all GMC vehicles. The brand is evolving to offer more fuel-efficient pickups, crossovers and SUVs.
The GMC portfolio in the Middle East features Terrain small SUV and Acadia crossover. The Sierra half-ton pickup is the most powerful light duty pickup on the market, and the first full-size pickup to receive the highest possible five-star Overall Vehicle Score for safety since the National Highway Traffic Safety Administration changed its New Car Assessment Program for the 2011 model year. Every GMC model, including Yukon and Yukon XL full-size SUVs, is available in Denali luxury trim. GMC also offers customers a high-level aftersales service experience. For more information, please visit gmc.mannaiautos.com