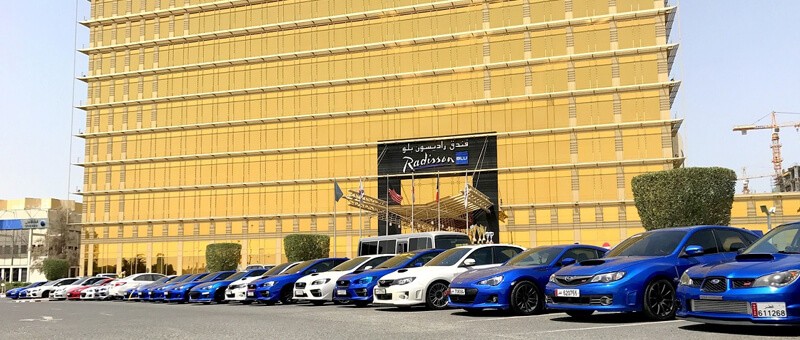 Members of the Subaru Club were able to get up close and personal with the latest revamped BRZ which recently debuted in Qatar.
Mannai Automotive proudly displayed several of the revamped 2017 Subaru BRZs at a Subaru Customer Appreciation Day held at Radisson Blu Hotel, Doha, last Friday May 19.
The car has been entirely re-packaged, with a power-packed performance, new aesthetics and greater safety specs.
To coincide with the event, an awards ceremony was held by Subaru Qatar for winners of recent track events and to offer thanks to Subaru owners and club members for their continued support and love of the Japanese brand.
Mr Mahmoud Skhiri, General Manager, Sales, at Mannai Automotive, was on hand to present the Subaru Qatar awards to:
2017 Qatar National Rally winner:  Rashed Al-Naimi
Top position holders at the Qatar National Sprint Championship:
Mohamed Al Naemi: 1st Position in 1S class (Round 2 and 3)
Saad Al Dosari: 1st Position in 1S class (Round 1)
Khalid Al Mansoori: 1st Position in 4S class
Special Award for outstanding commitment and service to the Subaru Club: Abdulaziz Al-Hamadi
The day was completed when the Mannai team showcased the 2017 Subaru BRZ in front of the hotel for club members and Subaru owners to see.
The iconic sports car now has five more horsepower and five more pound-feet of torque; the first ever full-LED headlamps and rear combination lamps. At the front, the C-shaped position lamps represent the fresh new demeanour and identity that the BRZ exudes on the road.
The suspension has been fine-tuned to enable the car to respond as the driver intended, while there have been significant improvements to the engine, drivetrain and aluminium rear spoiler. The interior features a new 4.2-inch LCD in the gauge cluster and new in-vehicle technology.
Mr Skhiri commented: "The event was an excellent opportunity for those that appreciate everything about the Subaru to see what all the fuss is about with the BRZ. There was incredible interest in the new tech and spec of the vehicle. It has more horsepower, more safety, greater sporty looks and the ride quality is silky smooth."
The Subaru BRZ has a starting price from QR 94,000, and the Mannai Auto Group is offering financing schemes, 3 Years/ 100,000 KM Warranty.