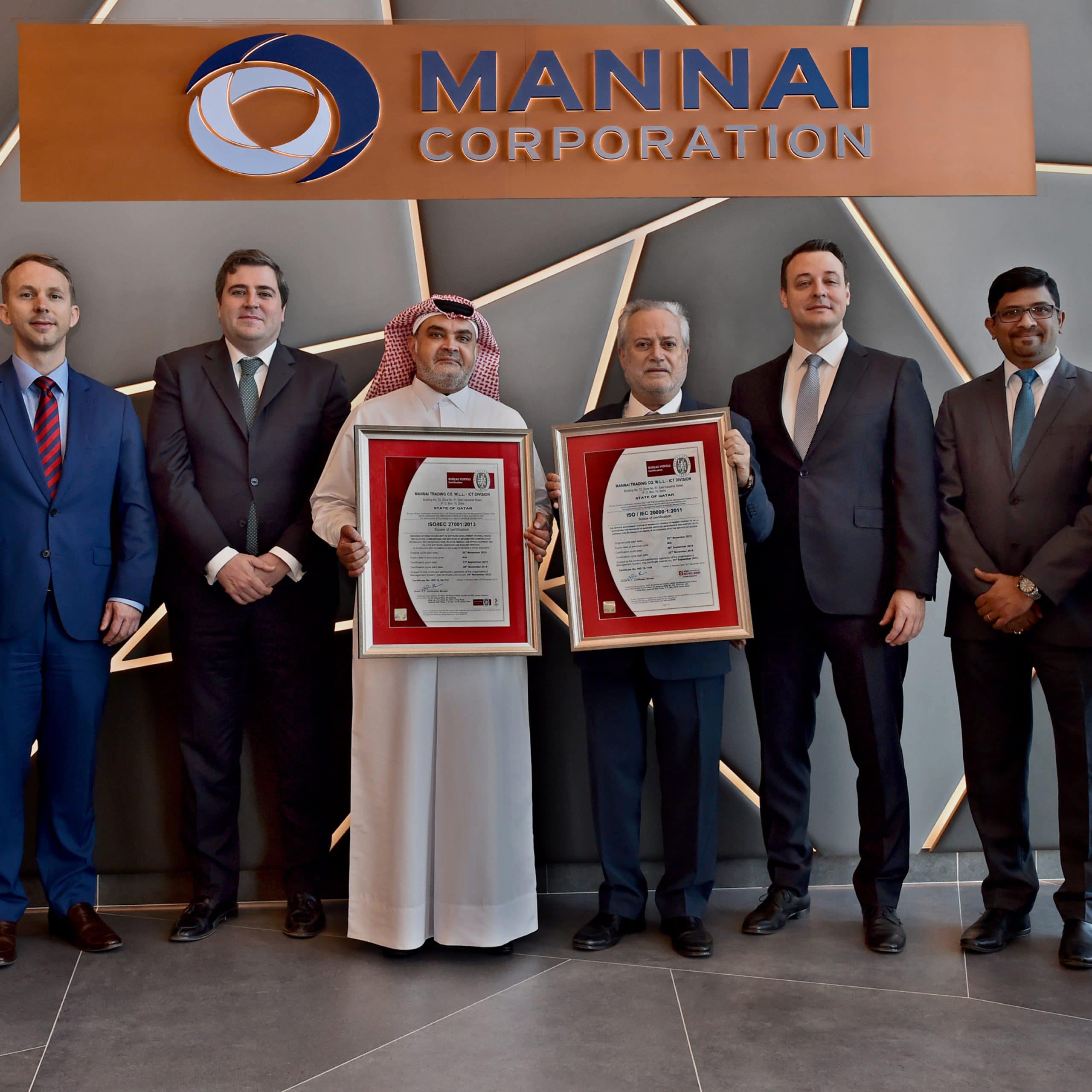 The Information & Communication Technology Division of Mannai Trading Co. W.L.L. (Mannai ICT) is one of the largest system integrators in the Middle East. Mannai ICT provides end-to-end solutions throughout the whole technology stack. Starting from passive and active networking over servers and storage to peripheral IT hardware, integrated IT solutions to customized software applications.
Mannai ICT has been awarded the certifications for ISO 27001 Information Security Management System for the scope of "Managing Information Security in Software Development, Trading, Design, Installation, Commissioning and Servicing of Information Communication Technology (ICT) Infrastructure, Telecom, Medical and Office Equipment and Related Software, Hardware and Managed Services" and ISO 20000-1 Service Management System for the scope of "the service management system of Mannai ICT, division of Mannai Trading Co. W.L.L., supporting the provision of managed services, maintenance and support to its internal and external customers in accordance with the service catalogue."
With the implementation of ISO 20000-1, value-adding activities are now captured in clearly defined, efficient and flexible processes along the entire service management lifecycle. With this in place, Mannai ICT is able to further improve the service reliability and performance to serve its customers even better than before.
Information security and cybersecurity are becoming ever more important in today's globalized and digitized world. Mannai ICT has implemented a framework to ensure a proper and systematic approach to address related challenges and threats based on the ISO 27001 management system. To further enhance its resilience, Mannai is in the process of implementing the National Information Assurance Policy (NIA) as well as the Qatar 2022 Cybersecurity Framework.
These certifications come on top of the existing standards of ISO 9001 Quality Management System, ISO 14001 Environment Management System and OHSAS 18001 Occupational Health & Safety Management System. The Health & Safety management system ISO 45001 will replace the existing OHSAS certification in the first half of the year 2020 to better reflect the risk-based approach to the wellbeing of Mannai ICT's employees.
"Exercising corporate responsibility to customers, employees, the public and the State of Qatar through continuous improvement of service quality, cybersecurity, environmental impact and employees' wellbeing is not optional. With the implementation of the frameworks for Quality, Environment, Health & Safety, Service Management and Cybersecurity, Mannai demonstrates that it takes its role and obligations as one of the leading companies in the country very seriously" says Juan Leon, Group General Manager of Mannai ICT.
Mannai ICT has been advised by Excelledia Quality Consulting during the implementation of ISO 20000-1 and ISO 27001, while the certification has been awarded through Bureau Veritas.