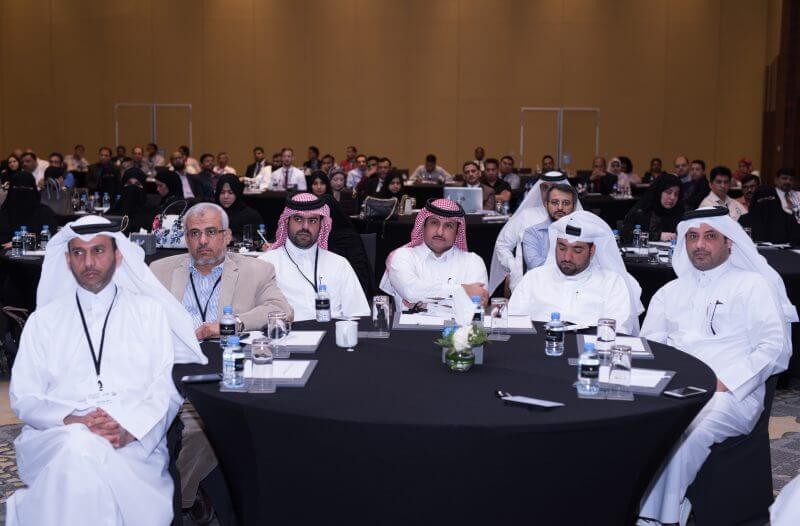 On the occasion of the World GIS Day, Qatar marked the GIS Day 2017 celebrations at The Intercontinental City, on Wednesday, the 22nd of November. The annual get together of all GIS professionals in Qatar was hosted by The Center for Geographic Information Systems (CGIS), Qatar under The Ministry of Municipality & Environment in collaboration with Mannai Trading Co. and Esri from the United States.  More than 130 GIS, IT & Engineering professionals participated from Ministry of Municipality and Environment, Supreme Committee for Delivery & Legacy, Ashghal, Qatar Rail, Qatar Petroleum, Ministry of Interior, Primary Health Care Center, Ministry of Development, Planning & Statistics, Ministry of Transport and communication, Hamad Medical Corporation, Kahramaa, Civil Aviation Authority, ISF and other organizations.
Mr. Manaf Ahmed Al Sada, CGIS Director, presented the keynote and discussed changing trends in the GIS technology and how the user base is becoming much wider with the increasing availability of GIS tools and services to government agencies and the general public. He stressed on the importance of data sharing among all agencies and the continuous update of data.
Speaking on the occasion Mr. Anwar Hassan, Head of GIS – Mannai Infotech, highlighted how geography and location play a pivotal role in nationwide decision making. He further added that the data made available by government agencies engaged in automated mapping, geographic data collection and development of GIS have geographic components that can be used for spatial analysis. Organizations need to have a strategy towards a connected world, while building on the fundamentals of GIS, thus keeping pace with the demands of the citizens.
International Speaker, Mr. Ian Jackson, former Chief of Operations at the British Geological Survey and an independent consultant in the field of geoscience information strategy, development of spatial data infrastructures, and communication of science presented aspects pertaining to use of GIS in various fields and focused on geo-hazards. Ian shared his experience in planning and delivering successful GIS projects. Apart from the traditional proceedings of the event, the platform embraced the true spirit of knowledge sharing and enrichment by showcasing the results of all the participants' years of investment in the GIS domain.
Representatives from Ashghal (PWA), Health Planning & Assessment, Supreme Committee for Delivery and Legacy, Meteorology Department from Civil Aviation Authority, Ministry of Municipality and Environment and 'Ministry of Administrative Development, Labor and Social Affairs' presented case studies and spoke about the key benefits of GIS in day to day business decisions. The presentations were judged by a panel of judges and the results had Ashghal, Health Planning & Assessment (MOPH) and CGIS in the top three positions respectively, while the Supreme Committee for Delivery and Legacy bagged the Special Award – Application of Geospatial Technology at the National Level. The organizers thanked the attendees, participants and presenters for taking part in this year's event which is considered as a forum for users of GIS technology to demonstrate real-world applications that are making a difference in our society.
Shedding light further into the event, CGIS Director Manaf Al Sada stated "The growth rate of Qatar has truly been phenomenal and a lot of the success is owing to our ability to adapt to new technologies that aid in improving infrastructure, logistics and customer satisfaction. Agencies and organizations throughout the world use GIS to incur minimal transportation complexities while empowering users to connect with dynamic environments in new and creative ways. We are looking forward to the development of the 4D mapping feature in GIS which will further help in urban planning as well as many other applications."
Mannai Trading Co. has been working diligently over the last few years to strategically lay out an extensive network to provide state-of-the-art geospatial solutions. "Most of the time, people fail to fathom the impact that GIS can have on daily lives. GIS is designed to capture, store, manipulate, analyze, manage, and present a variety of spatial and geographical data. This data is often used across various fields of planning such as healthcare, transportation, education, public safety, recreation, natural resource protection, growth management and impacts people living in the area in many ways. With location intelligence, we will strive to build an efficient, connected and smart community with improved quality of life, leading to national growth and innovation", stated the Head of GIS – Mannai InfoTech, Mr. Anwar Hassan.