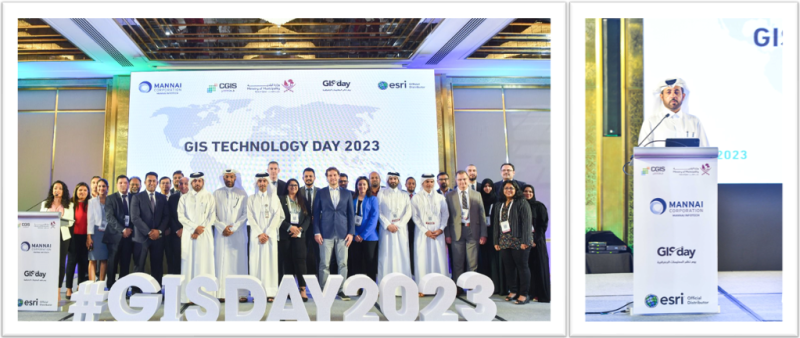 The Centre for GIS (CGIS) under the Ministry of Municipality in collaboration with Esri Inc. and Mannai InfoTech, one of the ICT divisions under Mannai Trading Company WLL, marked the annual GIS Technology Day celebrations in a grand event held at the Sheraton Grand Doha on May 17, 2023.
Over 200+ GIS professionals from public sector organizations, ministries, and universities gathered to explore the latest advancements in geospatial intelligence.
This year's GIS Technology Day focused on the intersection of Artificial Intelligence (AI) and sustainability, highlighting the immense potential of GIS technology to address pressing global challenges. Keynote speakers included CGIS Assistant Director, Amer Al Humaidi and Mannai GIS Associate Vice President, Pradeep Thomas.
During this session, Humaidi said that this year's celebration highlights GIS's success story in Qatar, in addition to following-up on its evolution over many years, as well as introducing GIS applications and the positive impact of the evolution of geospatial technologies worldwide.
Qatar has made sustainability a key pillar of its economic growth strategy, with investments in solar power, sustainable food and water supply, and digital transformation. The GIS Technology Day event underscored the importance of Geographic Information Systems in fulfilling Qatar's increasing geospatial needs through the adoption of cutting-edge technologies, ultimately building a more effective and smarter community.
Digital transformation is the essence of economic and social development for Qatar in conformity with the Qatar National Vision 2030, and Qatar is pivoting towards digital technology in all fields to accelerate this direction.
Esri Global Chief Technologist Mansour Raad shared insights on geospatial AI emphasizing its potential to revolutionize operational efficiency and decision-making processes. Richard Budden, Deputy General Manager of Esri for the Middle East, Africa & Central Asia spoke about the significant role of location intelligence in driving sustainable practices across various sectors.
Representatives from The Centre for GIS – Ministry of Municipality, The Public Works Authority – Ashghal, Hamad Bin Khalifa University (QCRI & QEERI), Qatar University & Communications Regulatory Authority, discussed the practical applications of GIS technology & highlighted the tremendous potential of harnessing geospatial intelligence for enhanced operational performance.
The Centre for GIS in Qatar under the Ministry of Municipality is one of the most advanced GIS centres in the world. It is responsible for providing the official digital and paper maps of the state and provides topographic databases and make them available to all state institutions for use in building databases for each institution. Mannai InfoTech is the official distributor for ESRI in Qatar providing cutting-edge geospatial solutions to meet the diverse needs of the market. As a trusted partner, Mannai collaborates closely with CGIS to deliver comprehensive and innovative GIS services that cater to the unique requirements of various industries.